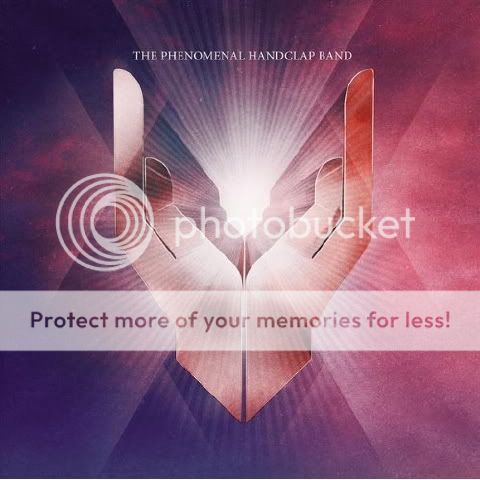 The Phenomena Handclap Band,
es el reencuentro con el groove, de sonidos inspirados en el LSD, soul de los 70's, synth rock embadurnado de psicodélia encaminado a origenes space-disco, con los dedos ampollados por requintos y riffs de progressive rock. Es un resultado bastante abrumador, sabe a las congas de Talking Heads, a la irreverente pista de baile de los Happy Mondays, a las modulaciones syntheticas de Emperor Machine y a largos momentos de trance a la Jethro Tull. Los tracks estan llenos de espontaneidad e improvisación, razón por la cual su canciones son realmente largas.
TPHB es el proyecto de dos veteranos Dj's de la escena neoyorkina,
Daniel Collás
(Witch Doctor) y
Sean Marquand
(the Medicine Man), que después de varios años en la búsqueda de su sonido, reclutaron una infinidad de músicos con credenciales para la realización de su álbum debut (23 Junio 2009). La diversidad de influencias y de sonidos de la banda toma sentido cuando lees los créditos del álbum;
Jaleel Bunton
(TV on the Radio),
Carol C
(Sí Se),
Jon Spencer
(Jon Spencer Blues Explosion),
Lady Tigra
(L'Trimm),
Morgan Phalen
(Diamond Nights),
Bart Davenport
(Honeycut),
Tommy Brenneck
(Amy Winehouse/ The Budos Band) y
Ellen McIlwaine
. Con este historial musical, el mash-up de géneros y sonidos conviviendo en armonía, logra hacer viejos clásicos, como si se tratara en verdad de una bigband de disco-soul de los 70´s.
Por si fuera poco, la banda cuenta con un acto en vivo de ocho integrantes con poderosos drum beats, flautas, vintage synths , órganos, percusiones, guitarras, armónica, pandero, cencerros, trompetas, en fin, la lista podría seguir y seguir. Su presentación este año en el festival
SXSW
de Austin Tx, fue una de las grandes sorpresas y de las mejores del festival, según la revista
NME
ya encargada de empujar a artistas emergentes.
Una de las propuestas mas interesantes en lo que va de año, sin temor de dibujar y rayar nuevas formas sobre sus influencias retro, el octeto neoyorkino es una de las bandas mas hype de la escena actual.